Like many items in life not all spectacle lenses are created equal. A basic, "white packet" lens will be made to a price, and whilst it will meet the International Standards which govern the quality of spectacle lenses it will not exceed them. A high quality lens will not only meet the standards but exceed them in consistency of the materials used, the specifications in manufacture will be tighter, and the conditions that the lens and any coating on the lens will be better produced. High Quality lenses will have as standard coatings which on a lower quality lens will be an optional extra at additional cost.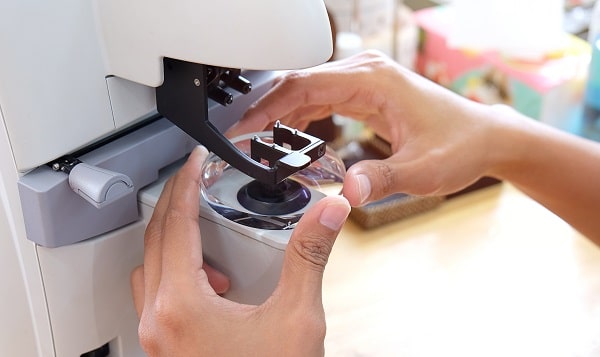 The main difference between a low quality lens and a high quality lens is in the optical design. A high quality lens the design of the curves on the lens surfaces to produce an image will be computed to give the best possible image, which is one with the least amount of distortion, on the retina. Sophisticated equations and CNC machinery will be used to produce the finished lens, the information used to do this will include such measurements as the how the eye rotates in the head and the optical structure of the eye. A standard basic lens will use none of this information to produce a lens.
Lens manufacturers such as Carl Zeiss, probably the oldest company in existence designing and making spectacle lenses, Hoya, and Essilor all produce specialist devices to enable us, your optician, to measure the parameters that are necessary to produce a high quality bespoke spectacle lens.
Surface coating, such as a scratch resistant coating, anti-reflection coating and water repellent coating , on a lens are supplied as standard and are added during the manufacturing process. This means that the coatings are more durable and of better quality rather than being added onto the lens surfaces as an "after thought".